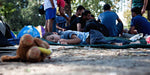 My friend Roberto was killed in Honduras recently.
And I am heartbroken.
Back in 2010 he hosted us, fed us, and welcomed us into his home. But the violence in his village prevailed.
He was a good man.
A family man. 
A superb coffee farmer.
And now, he is no more. 
Dangerous scenarios like these are very real in Central America. And no matter where you stand politically on the immigration issue, one thing is for sure: something needs to change.
For us who follow Jesus (and His ways) our calling and privilege is to serve those who are oppressed (while working toward the change).
So next week, the Happy NPO is getting involved.
We are joining a small group of people to cross the border from San Diego to Tijuana, and serve hundreds of beautiful families who are hungry, desperate, and broken.
We are partnering with our friends at Vida Church Sacramento, the great people of ¡Escuchanos!, as well as connecting with the work of World Relief in the area.
The plan is to visit a couple of shelters on the Mexican side, and literally purchase whatever they need... on the spot. We also want to listen to their concerns, plan sustainable partnerships, as well as bringing hope and emotional support.
On top of that, we are partnering with a non-profit on the ground to help assist young people who are stuck in the legal process.
Yes, we want to attend to the present need, but also, become an ally for them as they go through the proper immigration channels.
We know that the work is hard and complicated.
But we will not stay on the sidelines.
We only have a couple of bread and fish, but we are putting them in the hands of Jesus, and trusting for multiplication.
"The King will reply, 'Truly I tell you, whatever you did for one of the least of these brothers and sisters of mine, you did for me.'" - Jesus in Matthew 25
+ Your donation is tax deductible and will be used exclusively to buy supplies and help families in need.
Join us in this journey with prayer, support, and resources. For people like Roberto, and the thousands more in need.
Muchas Gracias,
Carlos