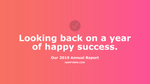 ----
To all our Happy Donors, ¡Gracias!
There are honestly no words that can properly express how incredibly grateful we are for your support. I know, I know... I just used a lot of adjectives. But they were all necessary to communicate how happy and appreciative our whole team is.
FYI. You can go through the slideshow above to see details about what we have accomplished.
This year alone we saw our non-profit grow in every single area! Sales in our store (TheHappyGivers.com) continue to grow. We hosted more volunteers than ever in Puerto Rico. We brought clean water to thousand of people in the Bahamas. We began our work with migrants in Mexico. And we increased our support in our Peruvian Children's home.
This is why our whole family moved to Puerto Rico. That's why there are hundreds more willing to travel (and serve) alongside with us. And that is why our agenda for 2020 is fully booked!
Keep giving por favor.
The work of Jesus through us is right and good.
Hugs,
Carlos A. Rodriguez
Founder & CEO
----