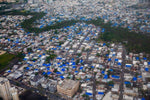 As soon as we're able to welcome teams again, we will begin building shipping container homes here in Puerto Rico. For the elderly and single moms in need.

They will be Hurricane/Earthquake proof.
Solar powered.
Rain catching.
With fruit & vegetable gardens.
And fully furnished.

Come down and help us build 🇵🇷
Email: info@thehappygivers.com for more details.
---
Here in Puerto Rico, we keep hearing stories of loss, of business that have not recovered, of families still separated, and homes that are extremely vulnerable.

It's the Blue Roof Phenomenon.

Hundreds of houses are still using blue tarps as their ceiling, in danger of devastation at the arrival of any major storm.
This is why we are here now! We are aiming to restore 25 houses in the next 3 months. We are aiming to fill communities with hope. We are aiming to increase recovery and support.

And we need your help.
Donate Today Towards Our OUT OF THE BLUE Fund.
Anything and everything helps.
As always, your donation is tax deductible.

You see, God brought our whole operation to Puerto Rico. And we are partnering with 3 local non-profits to not only restore these 25 houses (home of single mothers and the elderly) but also to help recover sustainable farms and empower local churches to assist in the growing homelessness crisis.
So thank you for being generous to us!
Give today.

Hugs,

Carlos and the Happy Team
---
Watch us + Join us: