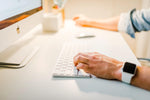 Here are the tools I use to successfully run my blogs, lead my online store and grow all my social media accounts. There are other options available, but these are the ones that I have used regularly and can vouch for with confidence:
1. BlueHost
Go with Bluehost and get the best hosting for your blog / site. Trust me, Bluehost is a reliable hosts to over 2 million websites worldwide (including HappySonship.com) Also, it's only $2.95 per month!
I know that setting up a self-hosted blog can be intimidating… but this is the most essential component of being successful online (it's the equivalent of being your own boss). So if you're thinking about jumping into the online space and need legitimate help, use this guideline I wrote: How To Start A Blog (Step-By-Step Guide for Beginners).
 
2. Shopify
Shopify is the easiest e-commerce solution. You can sell any products online in a modern storefront designed with the mobile experience in mind. Our online store (TheHappyGivers.com) which funds our non-profit work in Puerto Rico, Peru and Ethiopia is hosted here. And I'm telling you, no other site can even come close to competing with the styles, the prices and the integration of Shopify.

+ Here's an easy step by step guideline to get you started.
 
3. Envato Marketplace
Make your site, your presentation, and any other digital product look amazing by using the Event Marketplace. There are millions of templates created by amazing designers, developers, photographers, illustrators and producers. Start at their Theme Forest store and get a great looking template for your website right now.
 
4. Constant Contact
Constant Contact is one of the best online email marketing solution to handle subscribers, send good-looking emails and track results. Honestly, no one compares to their ease of use and power. They work with almost every marketing app on the planet, and their pricing is affordable. Plus, if you want to get an email marketing strategy going (and I highly encourage you to do so) you can schedule an email sequence that will work for you for months.
Oh… It's free to try! Start today.  
5. Elegant Themes
Elegant lives up to its name. Get the ultimate WordPress toolkit that can be used for web design plus great features that merge your social media accounts and your mailchimp to your website (with style). I've been using their products since 2015 and will continue to use them and promote them.
 
6. BuzzSprout For Podcast
If you're ready to get into the (you totally should) podcast game, then Buzzsprout is the place for you. Host, promote, and track the success of your podcast in this easy, compatible and ready to use host website. And oh yeah… they will give you a $20 Amazon.com gift card just for signing up though this link. #winwin
 
7. Upviral
UpViral is still a secret… and I'm so glad it is! Since we started using it 9 months ago we gained more than 38,000 leads and increased our email list dramatically. If you're ready to take your online income potential to the next level then you have to focus on growing your email list (and there's no one better at growing an email list than Upviral. You can Easily Run Viral Giveaway Campaigns, sweepstakes, product launches and more. This is definitely the ultimate viral referral system!

HIGHLY RECOMMEND.
 
8. Social Pilot
Social Pilot is a life saver! It's usually on Sunday nights when I take 30 minutes to organize my social posts for the week. I get to schedule images, quotes, links and more… on Twitter, Facebook and others. Honestly, this is the best way to manage social media, schedule social media posts, improve engagement and analyze results – at a pocket-friendly cost!
9. HubSpot
There are so many helpful tools here (and you can start using them for free). HubSpot offers a full stack of software for marketing, sales, and customer service, with a completely free CRM at its core. They're powerful alone — but even better when used together. Check it.
I'm still learning to maximize all their features! So much can be done.
So let's get to work my friend. And let me know if you have questions, ideas or suggestions in the comments below. 
Success to you!
Carlos
---
PS: On Wednesday July 28th @ 12pm I will do a 90 minute webinar on Starting A Successful Online Store.