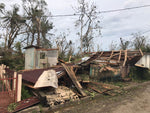 "When Jesus saw the crowds, he had compassion for them, because they were harassed and helpless, like sheep without a shepherd." – Matthew 9:36
I just returned from my sixth trip to Puerto Rico since Hurricane Maria… and I'm going back.
We have to!
The people of Puerto Rico need more help.
This is not a political statement or a dramatic appeal… this is a reality check.‬
Now, I'm looking for brave individuals, churches and/or organizations that want to help the people of Puerto Rico. Our family is moving there soon. We want to be present for the work ahead. So let's partner together to serve and love the island.
Come!
We have a registry of people who are still in legitimate need. Single mothers, families who have children with special needs and elderly couples living in remote areas.
If you tell us what you can offer, we can strategically pair you up, host you and work together.
This is my personal email: carlos@happysonship.com – Let's talk.
And if you want to support our ongoing work in the island, donate to our non-profit by clicking here.
You see, we have driven for hours ‪o‬n main roads and small communities.‪ We met with hundreds of people who still have not received the support needed (while surviving without running water, electricity or phone services). ‬
‪We entered multiple homes with elderly people and veterans who don't have their required medication. Too many kids drinking unsafe water. And so many families who lost their farms, their small businesses and/or their jobs. ‬
‪It was even hard at the airport. Hearing children crying hard as their parents send them away to a better situation. And feeling the pain of my people, because media attention has also left.‬
‪As a Puerto Rican, I am heartbroken yet hopeful.
As an American citizen, I am disappointed yet expectant. ‬
‪As a human being who was faced with both the pain and the resilience of the Puerto Rican people, I am inspired and full of courage. ‬
‪Because we encountered joy that made no sense. Smiles and laughter in the midst of devastation. Radical hospitality plus delicious rice & beans. ‬
We prayed with families, laid our hands on the sick, gave hundreds of hugs and saw the Kingdom of God breaking through the darkness. We were also able to take more than 3,500 water filters which have the potential to help 50,000 people have safe drinking water, plus hundreds of bags full of medicines, flashlights, hand sanitizers and more.
‪Puerto Rico will rise again… you can be sure of that! The question is, will we full participator of the recovery or just casual spectators of the disaster?‬
Jesus already chose what he does for the least of these.
Our turn.
Por favor… help us, help them.
All you have to do is give.
Anything helps!
And as always, your donation is 100% tax deductible.
Gracias.
And the King will answer them, 'Truly, I say to you, as you did it to one of the least of these my brothers, you did it to me.' – Jesus
+ And if you want to support our work and show off your solidarity, get one of our #PuertoRicoSeLevanta (Puerto Rico Rises) items. Every cent being used for our reconstruction work. Click the image for more: