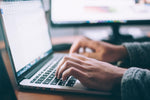 Good things take time.
But they shouldn't take you a million years.
So I want to give you the 10 Steps To Crafting Your Next Blog Post. It's a simple list that does not need to be followed sequentially (but it's usually in this sequence where I get the best results).
Here you go: 
1. What Are You Writing About? –  The answer should be easy. Examples: Love in Marriage, Eating Healthy, Changing the World. Choose your topic and take a little extra time defining it. The post will flow better when you have developed something that matters to you.
Ask yourself this question, What is stirring me up right now?
2. Crafting Your Post's Title – This step could be done at anytime, but make sure you take time to make it good! A good title will get people reading your post when they see it in your social media feed or Google's search results page.
Try the Headline Analyzer (This tool will score your overall headline quality and rate its ability to result in social shares, increased traffic, and SEO value.)
3. The Opener – First impressions always matter. Shock them, amuse them, surprise them. Because once you've got someone past your post's title your opening line draws them into the heart of your post; and that's where you want them.
Learn from your favorite writers. Do variations of your favorite openings in books, movies and other articles.
4. Main Points – This is the meat (the chewy, tasty part).  Here is where you say what you mean and share your experiences and thoughts. Be clear. Get to the point. Say it like it is.
Add different kinds of media to drive your point. Examples: engaging quotes, videos or additional artwork.
5. Call to Action – Invite your readers to do something. Go here, pray this, try that etc. This helps them to apply it to their lives and it helps you make a deeper connection with them.
Also ask them to share the article. Ask them to buy your product. Ask them to comment below. "Ask and you shall receive."
6. Quality Control – Small mistakes can be a major deterrent to engagement for some readers. Spending time fixing errors and making a post 'look' good can take it to the next level.
Try Hemingway (This website will help you with sentence structure, grammar and suggestions for improvement.)
7. Post and Share – Timing is important. Check what days and hours work best for you and share then. Strategic timing of posts can ensure the right people see it at the right time. Then share it with people you know would be interested in your topic.
Send it to your friends on Facebook and tag authors you have quotes on Twitter.
8. Engage in Conversation – The real action happens once your post is published and being interacted with by readers and other bloggers. Respond to comments, engage your readers and add more relevant content around it.
Remember, the best posts are the ones that are honest about you and relevant to your readers. People are looking for authenticity and hope.
Now, go for it!
#HappyBlogging
--- 
Recommended Reading: Writing Tools: 50 Essential Strategies for Every Writer 1st Edition
"Writing is a craft you can learn," says author Roy Peter Clark. "You need tools, not rules." His book distills decades of experience into 50 tools that will help any writer become more fluent and effective.