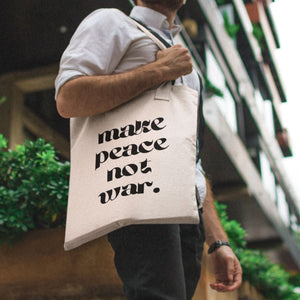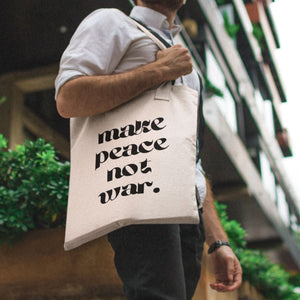 On Sale
Make Peace Not War | Tote Bag

These items helps The Mission to SHELTER REFUGEES IN SIGHISOARA, ROMANIA.

Millions of people in Ukraine are being displaced due to violence. Over 80,000 have fled to Romania, with thousands more coming each day. The Mission's campus is roughly 130 miles from the Ukrainian border.

Families are having to uproot their lives. Many have lost loved ones or have had to make the difficult decision to leave loved ones behind to fight. They have left their homes and belongings, out of desperation.

The Mission team is working with other churches, non-profits, and local families, to provide shelter and aid to refugees by bringing them to Sighisoara. Additionally, The Mission is gathering and sending supplies, like personal care products and dry goods, to the Ukrainian border and into Ukraine. The Mission's regular childcare program will continue to run, providing care to local families, and we will be welcoming children from displaced families as well. Our small but mighty team is working hard. There are so many helpers here in Romania, and we are honored to be serving alongside of them.
+ A stylish way to carry books, groceries, or anything else one might need! This roomy, practical high-quality cotton Tote Bag is an ideal canvas for any print. Shoulder-length handles provide comfort with style in every situation.
100% cotton
Boxed corners
Decorative seams
Made and printed in Puerto Rico
Size: H 15.2 in x W 14.5 in  | Handle: H 6.3 in x 1 in 
+ 100% of the profits support our children's home in Peru, our rebuilding projects in Puerto Rico, and our empowerment of migrants in Mexico. Check out the work of our non-profit The Happy NPO!
Our products are made in the USA and printed in Puerto Rico in a sustainable and eco-friendly way. We use 100% biodegradable water-based inks that are toxin-free. We also employ from the local community, pay fair wages, provide training for their trades, and eat lunch together every day.
If you are looking for more details or information visit the FAQ section!