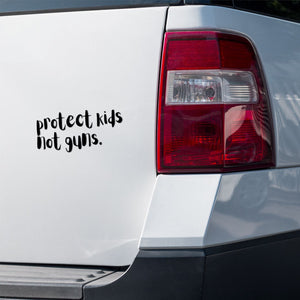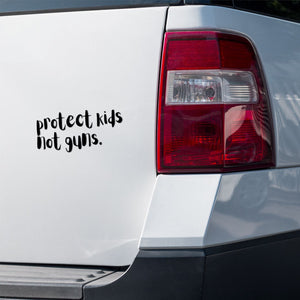 On Sale
Protect Kids Not Guns | Sticker

Enough. The time for change is now. Protect kids, not guns!

Wear it. Share it.
Call your representatives.
And raise your voice for common sense gun reform.

+ Your purchase supports: Moms Demand Action

Moms Demand Action is a grassroots movement of Americans fighting for public safety measures that can protect people from gun violence. We pass stronger gun laws and work to close the loopholes that jeopardize the safety of our families. We also work in our own communities and with business leaders to encourage a culture of responsible gun ownership. We know that gun violence is preventable, and we're committed to doing what it takes to keep families safe.

---
A bumper sticker style, size 4x4. Perfect for your car or your water bottle, laptop, or mailbox, etc. Put it where you feel it belongs!

For indoor or outdoor use

Black letters on white background

Fair Trade / Fair Wages
Eco-Friendly
Printed and shipped in Puerto Rico
100% of profits supports our NPO. Learn more (happynpo.com) 
Details on shipping, visit HERE.