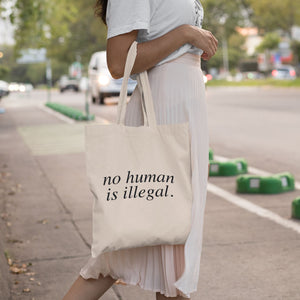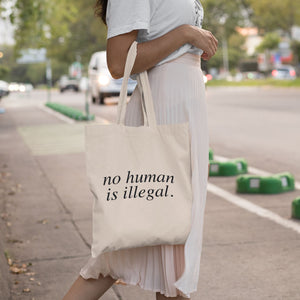 On Sale
No Human Is Ilegal | We Welcome Tote Bag

In partnership with We Welcome, The Happy Givers is printing this unisex tee for a limited run (and a wonderful cause).
The profits from these items will go quickly and directly to this important work.

We see all throughout Scripture that God is passionate about welcome. We are passionate about it, too. Let's create a culture of welcome together from our tables at home to the halls of Congress.

It takes all of us to remake the world. 
---
100% cotton
Size: H 15.2 in x W 14.5 in  | Handle: H 6.3 in x 1 in
Fair Trade / Fair Wages
Eco-Friendly
Printed and shipped in Puerto Rico
100% of profits supports our NPO. Learn more (happynpo.com) 
Details on shipping, visit HERE.