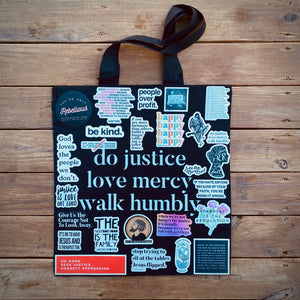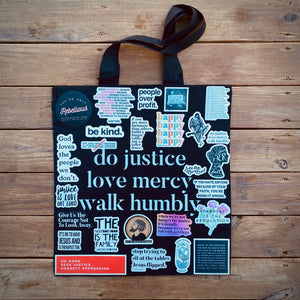 On Sale
Tote / Sticker Pack Bundle

For a limited time, get our all-sticker-pack with an added Micah Six Eight black tote bag ... for 70% off what it would cost you to buy them individually. The photo looks cool with all the stickers stuck to the tote but they are actually sent separately and individually (so you can put them wherever you want).
---
Includes: 
+ 100% of the profits support our children's home in Peru, our rebuilding projects in Puerto Rico, and our empowerment of migrants in Mexico. Check out the work of our non-profit The Happy NPO!
Our stickers are for indoor or outdoor use. Most of them are matte with high quality print and full of inspiring and challenging quotes.
Fair Trade / Fair Wages
Printed and shipped in Puerto Rico
100% of profits supports our NPO. Learn more (happynpo.com) 
Details on shipping, visit HERE.