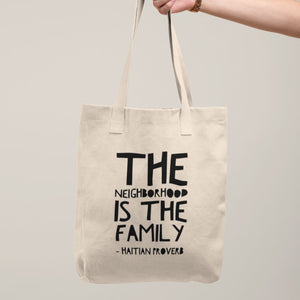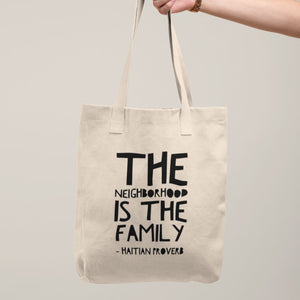 On Sale
The Neighborhood Is The Family | Haiti Relief Tote Bag

"Vwazinaj se fanmi." (The neighborhood is the family) ~ Haitian Proverb
---
In partnership with Help One Now, The Happy Givers is printing this tote bag for a limited run (and a wonderful cause). Given the current situation and instability in Haiti, we are working alongside the local leaders, partners, and Haitian churches we serve on the ground to support vulnerable families with food, shelter, and safety. With borders and ports closing and gang activity driving families from their homes, quick action to support vulnerable families is critical.
---
Goal:
Support 500 families by providing safety, shelter, and food

Breakdown of Funds:

$500 provides food, shelter, and safety for a family for one month

$1 = provides 1 meal

This request is coming directly from the Haitian local leaders we partner with on the ground. They are already starting these programs to meet the needs of their immediate communities. We are coming alongside them to help alleviate the burden of rising costs and limited access to precious resources.

The profits from these sales will go quickly and directly to this important work.
---
A stylish way to carry books, groceries, or anything else one might need! This roomy, practical high-quality cotton Tote Bag is an ideal canvas for any print. Shoulder-length handles provide comfort with style in every situation.

*Whenever you purchase 2 of our tote bags, we gift you a 3rd one! Just add 3 into the cart and the discount is automatically applied at checkout.
100% cotton
Made and printed in Puerto Rico
Size: H 15.2 in x W 14.5 in  | Handle: H 6.3 in x 1 in
Fair Trade / Fair Wages
Eco-Friendly
Printed and shipped in Puerto Rico
100% of profits supports our NPO. Learn more (happynpo.com) 
Details on shipping, visit HERE.