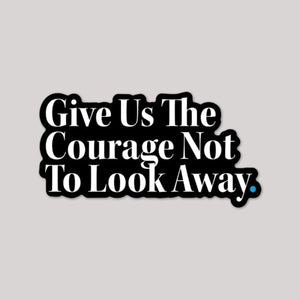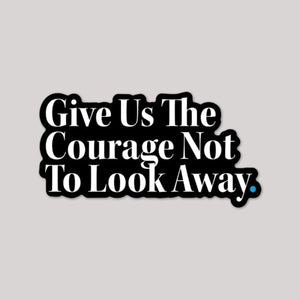 On Sale
Give Us The Courage | World Relief Sticker

As the crisis in Afghanistan continues, The Happy Givers is partnering with World Relief, to support our newest arriving Afghan neighbors. Amidst increasingly divisive times, this sticker is a reminder for us stand up, seek justice and refuse to look away from those who are in need.

The profits from these sales will go quickly and directly to this important work.
Learn more here: worldrelief.org
A sticker for your water bottle, laptop, car, or mailbox. Put it where you feel it belongs!
For indoor or outdoor use

Black letters on white background
+ 100% of the profits support our children's home in Peru, our rebuilding projects in Puerto Rico, and our empowerment of migrants in Mexico. Check out the work of our non-profit The Happy NPO!
Our products are made in the USA and printed in Puerto Rico in a sustainable and eco-friendly way. We use 100% biodegradable water-based inks that are toxin-free. We also employ from the local community, pay fair wages, provide training for their trades, and eat lunch together every day.
If you are looking for more details or information visit the FAQ section!